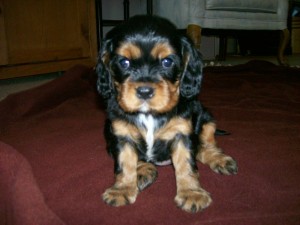 Raising puppies is a family hobby. Our dogs are brought up in the heart of our family here in Paulden, AZ  and are well socialized, happy, and confident.
Cavaliers are wonderful little dogs, and maintaining the special gift they possess is very important at Nine Mile Cavaliers.
Cavalier King Charles Spaniels are very social and need people as well as a safe environment to grow.
We would be willing to meet, within a reasonable distance, to bring the puppy to you.  All of our adult dogs are OFA tested for heart and patellas.  We also DNA test our adult dogs for EFS & CC.
Nonrefundable deposits are accepted to hold a puppy.  Please pick up your puppy at my home, or we can possibly  arrange a nanny to bring puppy to you.
Birth announcements will be posted on the Available Puppies page.
If you would like an e-mail of announcements please subscribe using the form on the right side of the page.
Nine Mile Cavalier's Commitment
We are happy to share these dogs with others.  We do place our puppies in loving homes only.  However, you will not be subjected to extensive questioning and you will not be asked to fill out a questionnaire.  Puppies/dogs need your time, care, and love.  Owning an animal is a responsibility.  Cavaliers can live into their teens, and will need you during all of these years.  Unless you are prepared to take your Cavalier out on a leash every time it needs to go out, a fenced in yard is also important.  Cavaliers are playful little dogs, and find great fun in chasing a rabbit or perhaps another animal across your yard.  This can be dangerous if your Cavalier is not in a safe and secure area.
All puppies listed on Nine Mile Cavaliers are advertised with the intentions of connecting our puppies with responsible, caring and loving families.

No sick or unhealthy puppy will ever be knowingly sold by us unless the condition is disclosed and understood by both parties.

We will never misrepresent, falsely advertise, or mislead any potential buyer regarding the pedigree, characteristics and/or temperament of any puppy advertised on Nine Mile Cavaliers.

We do OFA, CERT, testing on all our adult dog for heart, hips, patellas.  We also do EFS/CC testing on all of our adult dogs.